Many factors must be considered when determining the proper placement of sprinkler heads; otherwise, the customers will spend more for water and risk damaging areas of grass and plants. We pride ourselves on installing a customized sprinkler system that provides complete coverage of lawns, shrubs, and flowers in the most cost effective way.Once we install a system we offer a one-year guarantee on the products and our workmanship. Also, we service systems, making repairs and upgrades as those needs arise.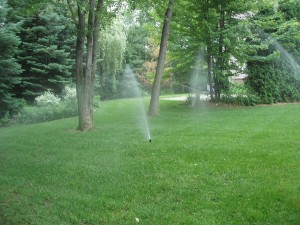 SPRINKLER SYSTEM SERVICES
Sprinkler System Design and Installation
Sprinkler System Winterization
Sprinkler System Turn Ons
Sprinkler Repairs and Upgrades
Lawn Irrigation Systems
Drip Irrigation Systems
Don't hesitate! Give us a call (248-588-1694), write us an email(info@totallawncareinc.com), or visit our "Contact Us" page to request a free, no obligation estimate!
Incoming search terms: